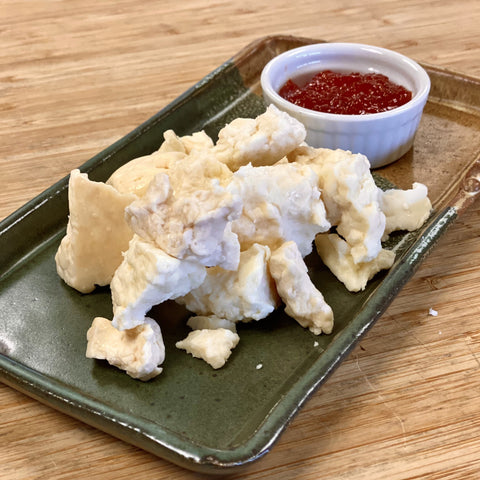 Caputo Brothers Creamery
"Cracked Elf" cheese curds
Show more
Based on one of our cheeses featuring Tröegs' popular Mad Elf beer, we present to you "Cracked Elf!" These are the fresh curds that will eventually make up the finished form of our Mad Elf Beer Cheese. They are made differently from our mozzarella stretching curd- more like the 'squeaky' cheese curds but creamier!
The beer used in this cheese's production is a ruby red Belgian-style ale with notes of cherries, cinnamon, and chocolate. The curds are marinated in an amber pool of Mad Elf to combine all the flavors of toasted grains, cream, and salt. Since these curds are un-aged, you will get a mix of creamy texture with some pockets of saltiness from where the forms hit the brine.
Uses & Pairings: These curds are amazing melted over french fries for a beer-y poutine, or into a fondue! You can also pile onto a cheese board alongside a jam or honey for a poppable snack! Perfect for a summer picnic or a trip to the beach!
Approximately 16oz.